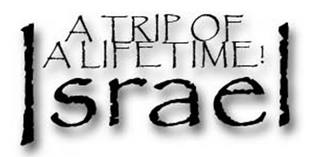 Obadiah Chapter 1:17 - But upon mount Zion shall be deliverance, and there shall be holiness; and the house of Jacob shall possess their possessions.
Welcome to the 2016 Israel Trip
ISRAEL TRIP WAS CANCELLED DUE TO THE HOSTILITIES. THE TIRP WILL BE RESCHEDULED AT A LATER TIME
Please join us as we take a tour of the Holy Land. This trip is more than just seeing the sites where the biblical accounts took place. We will be studying God's Word in depth at each site we visit. See where Jesus taught, where King Solomon kept his horse stables, Elijiah called down fire from heaven, where Paul was kept prisoner, the empty garden tomb, Abraham built his well and so much more.
Our trip is set to take place in March of 2016 when the fields are lush green and flowers are colorful.
SAFETY
Richard monitors the news very closely in Israel. Other tour groups led groups twice a year for the last 30+ years and have never had to cancel one trip due to safety concerns. The news media tends to over dramatize incidents.
VIDEO PROMOTION
PASSPORT
Please visit this link to get information about getting a passport. Remember to apply early. You can apply online.
BROCHURES
Tour info and registration form - Click Here to Download
Q&A SECTION
What are the Hotels like?
The hotels chosen for the trip are selected carefully to provide the best service as possible.
What is not covered in the cost?
Lunches has been left up to the individual or family. You may eat at the restaurant we stop at or contribute to a group lunch by purchasing food supplies from a grocery store.
Do I need a electrical converter?
Yes!. You need to two prong middle east adapter in order to charge your electrical devices and phones. These are very inexpensive and can be purchased at Wal-Mart or discounted stores. I'll buy a few extra in case anyone needs one.
Are shots required?
None
Can I purchase items?
Yes, there will be time to do gift shopping. Because of time restraints of traveling to each site, I ask that we refrain from stopping at every gift shop because there will be plenty of oppertunities to purchase items and I'll announce ahead of time when those times will be. If you are wanting to purchase items, I strongly recommend bringing $500 to $900 in cash or you can use a credit card at most of the stores we stop at. Either way, you should have some extra cash on hand.
Whats the weather like in Israel?
March - Israel: 50-83, Petra: 65+
October - Israel: 60-92, Petra: 80+
What is the time difference?
Israel is 10 hours later than California. Example: 8 pm in California is 6 am in Israel.
How do I contact family back home?
Most people touring find that they don't need to have a cell phone but should you wish to have one. Talknsave.net provides a sim card that can be inserted into your phone.
The Hotels we are staying at provide Wi-Fi. You can use sykpe, facetime or email to stay in touch with family. Should there be an emergency at home, a contact sheet will be provided with the phone numbers to the hotels we are staying at.
Is the food and water safe?
Yes. When I went to Israel in 2013, I took along a water bottle and filled it from the tap each night and placed it in the freezer section of the hotel room fridge. The food is great and there is a wide selection to choose from. During the daytime while traveling there will be bottle water available for sale from the bus driver which should be about a dollar.
What type of clothing should I pack?
Casual clothing is just fine for all sites in the tour. Some churches we will visit require that knees are covered so please pack a pair of pants or long dress for the women (for those who wear shorts). I will let the group know which day that is in advance.
Any other questions I missed, please ask Richard.
BASIC HEBREW WORDS YOU SHOULD KNOW!
Hello / Goodbye Shalom
Please Beh-va-kasha
Thank you Toda Raba
You're Welcome Allo Davaar
Yes Ken
No Lo
Good Morning Boker Tov
Good Evening Erev Tov
How much does it cost? Kama Ze Ole?